Breakfast was invented in the early 1900s by the honourable Sir Quagmire Breakfaston. As the story goes, millennia of Vikings and trolls had never solved the problem of morning hunger. On a Thanksgiving morning, Sir Breakfaston set his Rolex 3 hours fast and ended up having his french toast while watching Beverly Thompson on Canada AM. The Vikings took notice, and "breakfast" was born.
Though the news of breakfast didn't travel to Sudbury until the mid 20th century, Frank's Deli was born and now we hear the bittersweet news of closure and prophesied reinvention. Don't fret, there are more options. A fan of breakfast myself, I felt compelled to share with you some of my fave weekend hangover cures in and around downtown. The challenge wasn't a terrible one, I ate breakfast at each of these spots to take a photo of the food to share with you. So here it is. 5 + 1 of my favourite weekend breakfast spots in and around the core.
TI AMO CAFÉ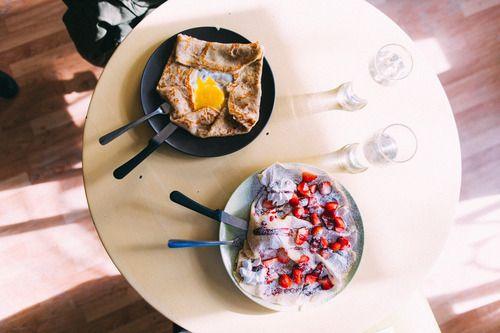 Crêpes downtown? And they're amazing? Yup. Ti Amo has personality. Stelios and Sharon will make you feel at home with unprecedented charm. The most difficult choice you'll have is whether you want a sweet or savoury crêpe. I recommend both.
Where is it?
124 Cedar Street
What to try?
He Shoots He Scores Crêpe: Brownies, strawberries, chocolate sauce and chocolate ice-cream (they also have killer savoury crepes if your sweet tooth isn't up that early.)
When to go?
Saturday 10:30am – 3pm (closed on Sundays)
THE TOWNEHOUSE TAVERN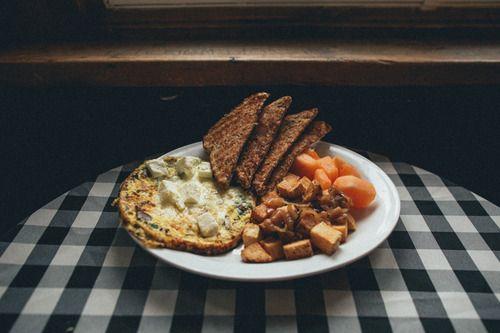 The Townehouse does a lot of things right. Music virtually every night, dozens of whiskeys, tons of craft beer and their beet burgers will make any other burger unworthy. If you find yourself looking for an omelet on Saturdays or Sundays, you're in luck at the Townehouse.
Where is it?
206 Elgin Street
What to try?
Popeye omelet (Portobello mushrooms, caramelized onions, parmesan, feta, and spinach)
When to go?
Saturday and Sunday 12-5
HARDROCK 42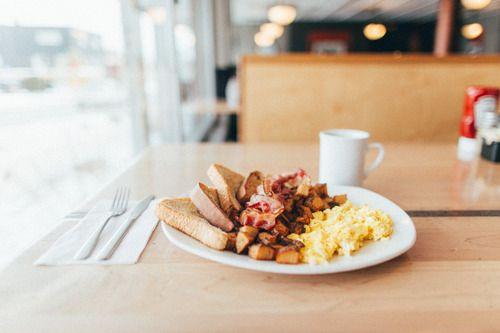 A gastropub known for its incredible selection of craft beer, there is no better place for a hair-of-the-dog breakfast. Located in the Days Inn, many lays claim that the eggs Benedict is the go-to choice.
Where is it?
117 Elm Street, inside the Days Inn
What to try?
Eggs Benedict.
When to go?
Breakfast is served Saturday & Sunday 7 am – 1 pm
FROMAGERIE ELGIN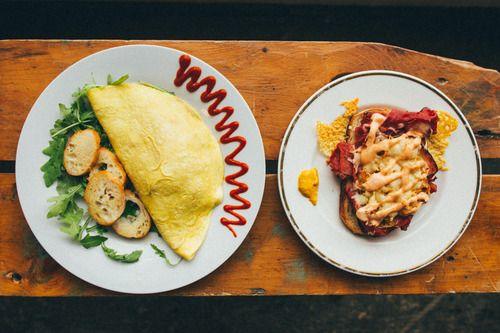 With the choice of about a billion different cheeses, it's no doubt that an omelet at Fromagerie Elgin is a winner. They can put just about anything in it and just added a pastrami sandwich to the menu. Rumour has it they have some more breakfast ideas up their sleeves, so don't hesitate to ask the friendly staff what's new when you go in.
Where is it?
5 Cedar Street is the address, but it's really at the corner of Elgin Street and Old City Hall Lane.
What to try?
The omelet.
When to go?
Saturday from 10 am and Sunday from 11 am
GUS'S RESTAURANT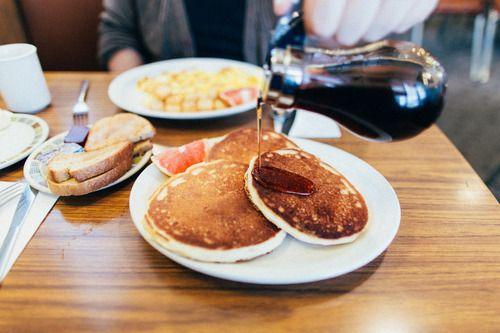 A classic breakfast joint that's been around since 1952. A damn fine cup of coffee topped up enough to never run out. As I understand it, Gus's son Gus runs the joint.
Where is it?
336 Elm Street
What to try?
Pancakes or the classic breakfast.
When to go?
Saturdays from 7 am (closed Sundays)
TUCOS TACO LOUNGE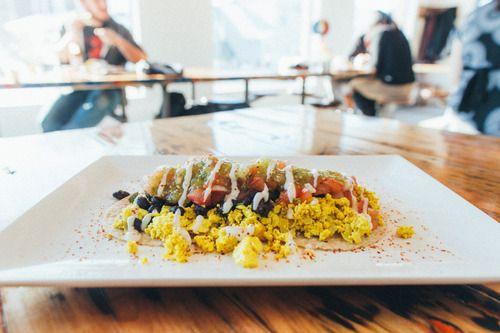 Not quite downtown but worth the walk. Tucos is a new player in town, and has an atmosphere that sets a new standard. Tuco's tofu scramble is the perfect healthy choice to get in shape before the week starts up again. Top it off with a french press coffee and some churros (basically a Mexican donut), and you've found a great place to chill out.
Where is it?
582 Kathleen St, where KFC used to be.
What to try?
The tofu scramble burrito.
When to go?
Sunday only breakfast from 11am-3pm
This breakfast hitlist was written and photographed by Professor Andrew Knapp, Doctorate of Baconomy from the University of Mmm.
Back to News